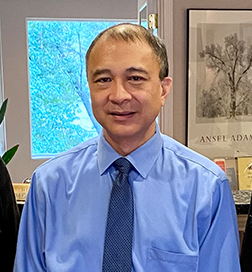 Dr. Serrano has been in practice for over twenty-two years.
In that time, he has become a well respected and valuable asset to the Atlanta community.
Dr. Serrano provides all phases of optometric care but has a special interest and expertise in developmental optometry.
Visual Field Awareness System
Dr. Serrano is a qualified with the Visual Field Awareness System applied to address visual field loss.
OCUTECH© BIOPTICS
Dr. Serrano is also qualified in the application of OCUTECH© BIOPTICS such as:
Vita©
Falcon©
Sightscope©
VES© Sport
VES© K
VES© Explorer
VES© Mini
VES© II
Dr. Serrano, and his highly skilled and experienced staff, provide diagnostic services, evaluation and treatment for all phases of binocular dysfunction, ocular motor dysfunction, convergence insufficiency, amblyopia,low vision disorders, as well as, vision disorders that have occurred as a result of traumatic brain injury, cerebral vascular accident (stroke), learning disabilities, and autism spectrum disorder.
He is an integral part of the rehabilitative community and collaborates with many colleagues from the community in treating the whole patient.
Dr. Serrano's professional network includes neuropsychologists, occupational therapists, physical therapists, speech therapists, and teachers.
Dr. Michael Serrano received his Bachelor of Science degree in Biology and Medical Technology from Indiana University.
Upon completion of his undergraduate studies, Dr. Serrano received his Doctor of Optometry from Nova Southeastern University in Florida.
Dr. Serrano also has a strong commitment to serving the community, as seen in his early commitment to volunteer services while a student at Nova. He is the founder of the SVOSH at Nova where students travel to third world countries and deliver much needed eye services that they would otherwise be unable to receive.
Dr. Serrano has continued his devotion to providing eye care services for the needy by conducting courtesy vision screenings throughout the Atlanta community and working in tandem with organizations like Sights for Students to provide these services at low or no cost.
Dr. Serrano is an active member of the GOA, AOA and College of Optometry in Vision Development (COVD).
He is currently studying for the fellowship program from COVD. Upon completion of this course of study, Dr. Serrano will become a Fellow ( F.A.C.O.V.D.), which is the highest achievement in Developmental Optometry.
Dr. Serrano is married to Dr. Pam Serrano, O.D. who shares his love of Optometry. They have been blessed with three children : Sara, Jacob, and Cole.